About Horace L. Newkirk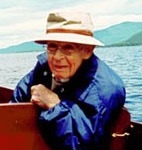 When physicist Horace L. Newkirk retired after three decades with the U.S. Navy at China Lake Naval Weapons Center, he and his wife moved to Santa Rosa to be near their daughter, Nadenia. For the remainder of his life he was a regular attendee at Sonoma State University's "What Physicists Do" series. In 1979 he gave a lecture in the series, describing how he developed a method to damp out the tumbling of one of the first American satellites in space.
A pilot, motorcyclist, and beekeeper, Horace Newkirk kept his sense of humor and enthusiasm even after a plane crash at age 78 slowed him down, and he continued coming to the lectures as long as he was able. After his death, Nadenia and other relatives and friends endowed the Newkirk Assistantship. Income from the endowment provides a stipend to the student.
How to Apply
Every semester, the department will send an email out to all physics and astronomy students with directions on how to apply for this research opportunity. If you, don't see this email in your inbox, please feel free to reach out to your advisor or email the physics department at phys.astro@sonoma.edu showing your interest in applying for summer research. Applicants for the Summer Research Awards must be students enrolled at SSU with a B.A. physics, B.S. physics, astrophysics, or physical science. Those students who are expected to graduate by the end of the current semester will be given a lower priority. Students who have completed Physics 314 will be given some preference. The recipient must be willing to commit to this work for eight weeks during the summer.
The application will require you to submit a one to two-page statement describing the research project you wish to participate in and what you intend to do. Start by discussing opportunities with the faculty member with which you wish to work. See our department website for details on faculty research or past student research projects for ideas. In your application, state your qualifications, and give the reasons why you believe you should receive the award.
Past Recipients of the Newkirk Assistantship