Hichwa Award: Impact of Gold Nanoparticles on ZnO Nanowires
I wanted experience in a lab where I could conduct experiments, analyze results and build solutions. The Hichwa award granted me that opportunity in the summer of 2019 when I gained access to the Physics Department Laboratory in Darwin Hall and the Keck Microanalysis Lab in Salazar Hall to engage in experimental research. Under the guidance of Dr. Hongtao Shi, I began growing wide bandgap semiconductor zinc oxide (ZnO) crystals on substrates such as tin doped indium oxide (ITO), through a process known as electrochemical deposition (ECD). While the ITO substrates performed as a cathode to attract Zn2+, a platinum wire was used as an inert anode. The importance of this research lies in the demand for semiconductors in fields such as telecommunications, integrated circuits, lasers and light emitting diodes (LED).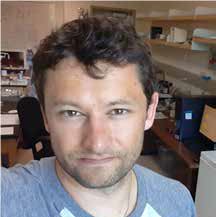 Our goal was to construct uniform and ordered ZnO nanowires perpendicular to the substrate, at temperatures below 100oC, with as few defects as possible, in solutions containing Zn2+ ions and a buffer called HMT. While I tried many parameters to optimize the deposition process, the majority of my research focused on the cause and effect of gold nanoparticles on the quality of ZnO nanowires. The ITO substrates were either spin-coated with gold nanoparticles (average size about 5 nanometers) or left bare before the ECD process started. The hypothesis was that gold nanoparticles would increase the availability and uniformity of nucleation sites on ITO for the creation of better ZnO nanowires, while the bare ITO substrate would act as the control sample.
The Hichwa award presented me a rare opportunity to pursue research. It was a tremendously hands-on and rewarding experience. Trouble-shooting failed samples was a step into the reality of science, where things do not always work out. Where you have to extrapolate new hypotheses, get a better grasp of the basics, or read articles that may or may not pertain to your research. It is stepping into the void of what you do not know and challenging yourself to adapt and understand. The research was not easy and there were days when I struggled a lot. Through these struggles, I expanded my knowledge, and the void of the unknown started to illuminate. For this, I could not be more grateful.